We are proud to announce that we have raised $75 million in our Series B funding round, led by Andreessen Horowitz's Growth Fund and Viking Global Investors, with follow-on funding from AlleyCorp, SV Angel's Growth Fund, and other leading investors. The round is comprised of $55 million in equity capital and an anticipated $20 million in a line of credit. This round brings Pearl's total funding to date to more than $100M.
With the Medicare trust fund on the verge of bankruptcy,1 an aging population,2 and healthcare costs steadily increasing,3 the US healthcare system is approaching a financial breaking point. Meanwhile, primary care is overburdened,4 undervalued,5 and inefficiently used,6 and chronic conditions are rising in prevalence and severity,7 resulting in poor health outcomes that are often avoidable and exacerbating existing strains on the system.
While the current strains on our system are unsustainable, they are also coinciding with the rise of innovative payment models, new risk-bearing paradigms, and increasing data interoperability. At Pearl Health, we believe these market forces, changes in social policy, and technological advancements are converging to enable a
tectonic shift in healthcare spending and risk management
. Pearl is meeting this moment by empowering providers to transition to a more proactive care model, enabling them with a technology solution that surfaces urgent cases before they become emergent, and rewarding them for outcomes aligned with value. This latest fundraising round, combined with our previous investments, will allow us to expand our reach, diversify our offerings, and accelerate the development of innovative solutions that place providers at the center of healthcare delivery and cost management.
Increasing Risk Liquidity Through Strategic Growth
Over the past year, more than 800 primary care providers across the country partnered with Pearl to align payments with patient health and leverage emerging data and technology to achieve better outcomes more efficiently. We're thrilled to welcome this new cohort of PCPs, who are committed to delivering value for their patients and for the healthcare system.
As we expand our network of enabled providers who can cooperate in risk-based arrangements, this will increasingly enable us to invite more payers to our model, who will, in turn, offer more risk-based models for our providers. This consolidation will empower providers increasingly to commit to this new healthcare system, and Pearl's increased scope and insight will afford greater success to these partnerships.
While we started with traditional Medicare, we believe there is value in aligning the entirety of a practice's panel to a better incentives structure. Our next stop will be working to expand our footprint to forward-thinking Medicare Advantage plans, so our provider partners can treat all seniors in a proactive, data-driven way. And be rewarded for it.
Generating Insights to Automate Value
In 2022, we launched the first version of the Pearl Platform: technology purpose-built to enable PCPs and clinical staff with insights that help them proactively manage Medicare patient panels with less work, deliver higher-quality care at a lower cost, and drive continuous improvement.
Panel View: an innovative, user-friendly way to identify which patients are most likely to need proactive attention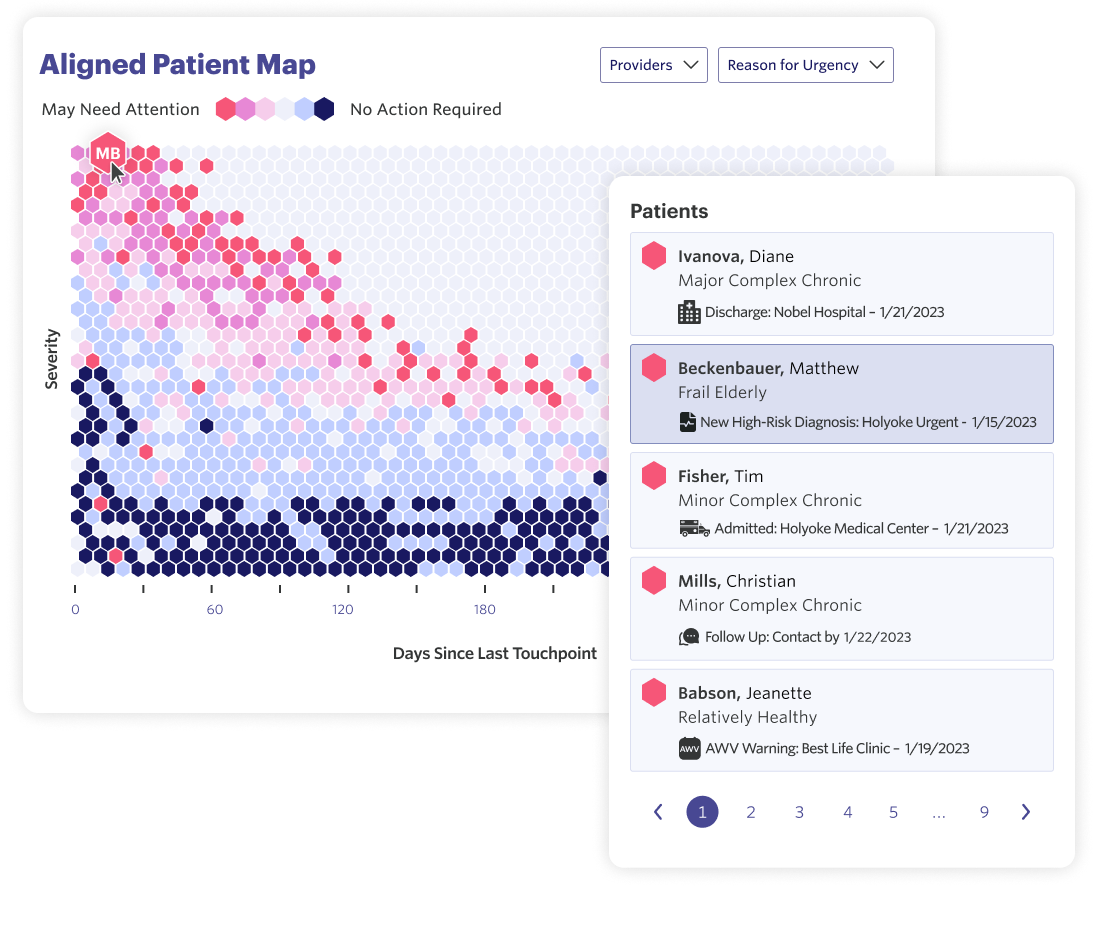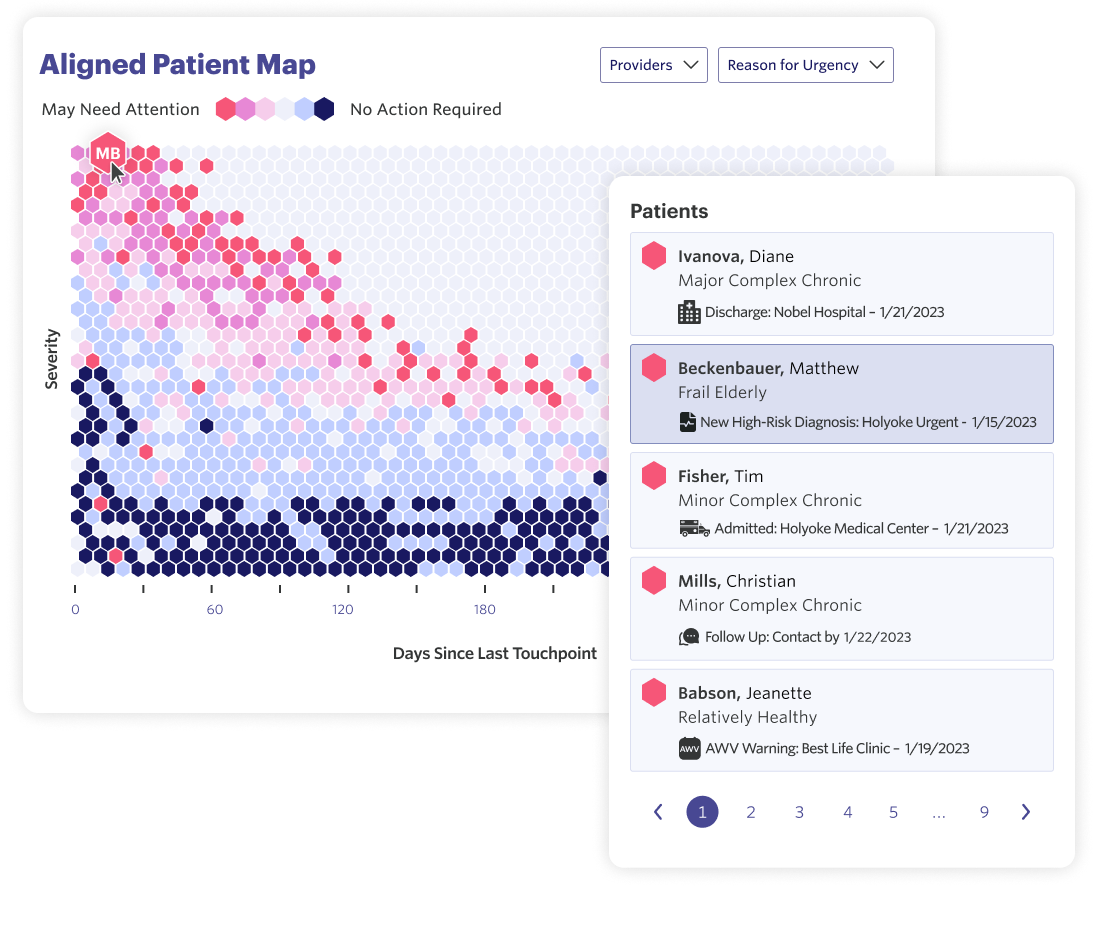 Patient View: a summary of patient health over time, including events, medications, and diagnoses from both inside and outside of the primary care office
We believe the best way to empower providers to manage healthcare risk is to ensure they have unparalleled visibility into their patients' healthcare utilization and needs. The Pearl Platform equips providers and clinical staff with timely admit, discharge, and transfer (ADT) alerts, so they have the information they need to effectively coordinate care following acute or post-acute events and prevent costly, avoidable hospital readmissions.
Finally, turnkey reporting gives primary care organizations strategic visibility into the most important determinants of success in value-based models and helps identify where they could deliver better care at a lower cost — without hours spent in spreadsheets, checklists, or reports on quality measures.
Signal-Action Framework & Urgency Score
In this document, you'll learn about the algorithm that powers the insights surfaced within the Pearl Platform and our vision for how this will evolve in 2023 and beyond.
Download White Paper
Signal-Action Framework & Urgency Score
Creating a Marketplace for Efficient Risk Management
We believe that physician enablement technology with a focus on primary care is critical to improve outcomes across patient panels and lower costs across our healthcare system; however, PCPs will of course continue to require support from specialists for those patient cases beyond the purview of general medicine.
In recent years we have seen a proliferation of mission-driven companies founded to manage distinct cohorts of patients based on the clinical disease burdens they exhibit, bringing to bear novel care models and eschewing traditional healthcare network constructs. Pearl sees this new landscape of Specialty Risk Partners as an opportunity to obviate the problems presented by most local market dynamics and move toward better aligned virtual care teams supported by targeted local assets.
We have already laid the groundwork with early Specialty Risk Partners that have demonstrated high-quality, efficient outcomes via appropriate care models for populations most prevalent amongst our provider partners' panels. As time goes on, we will continue to develop integrated tooling to better manage at-risk populations, while aligning these partners with PCPs through both the Pearl Platform and financial incentives.
Building Our Team and Values-Based Culture
Vineeta Agarwala, MD
Board Member
Vineeta Agarwala, MD, PhD, is a General Partner at Andreessen Horowitz where she leads investments for the firm's bio fund across therapeutics, diagnostics, and digital health, with a focus on companies that are leveraging unique datasets to improve drug development and patient care delivery. She also serves on the board of BigHat Biosciences.
Prior to joining a16z, Vineeta has held many different roles in the healthcare space: as a physician taking care of patients; as an operator at tech-driven healthcare companies; and most recently as a venture investor on the GV (Google Ventures) life sciences team, focused on biotech companies with a data-driven approach. Previously, she was an early data scientist at Kyruus; a management consultant for biotech, pharmaceutical, and medical device clients at McKinsey & Co; and a Director of Product Management at Flatiron Health, where she led the company's partnership with Foundation Medicine to integrate real-world clinical and genomic data into national-scale database products to accelerate drug development and research in oncology. She has collaborated with academic researchers at Cold Spring Harbor Laboratory, Lawrence Livermore National Laboratory, and the Broad Institute, where she did graduate work in computational biology and human genetics.
Vineeta holds a B.S. in biophysics from Stanford University, and MD and PhD degrees from Harvard Medical School / MIT. She completed her clinical residency at Stanford, and is board certified in internal medicine. Vineeta continues to see patients at Stanford as an adjunct clinical professor in the Division of Primary Care and Population Health.
Jeffrey De Flavio, MD​
Executive Chairman​
Jeffrey De Flavio, MD is co-Founder and Executive Chairman of Pearl Health. He is an Entrepreneur in Residence at AlleyCorp and the Founder of Groups: Recover Together, the national leader in value-based care for treatment of opiate addiction. Dr. De Flavio's expertise is in value-based care, clinical redesign and building early-stage companies. He received his M.D. from the Dartmouth College of Medicine and his M.B.A. from the Tuck School of Business at Dartmouth.
Michael Kopko
Board Member, CEO
Michael is co-founder and CEO of Pearl Health. Michael served as an early employee and Vice President at Oscar Health, having built their pre-revenue Insurance Plan Sales and Network Contracting systems. He most recently managed the company's largest P&L at +$2.5B. Prior to Oscar, Michael worked for Bridgewater Associates in the company's Research, Client Service, and Recruiting departments. While at Bridgewater, he was the Head of Research Analytics where he reported to the CEO and Head of Research. In 2009 he successfully sold DormAid, a college service company, which he launched and ran while he was a student at Harvard. He is the recipient of Columbia's Feldberg Fellowship, where he received his M.B.A. He received his A.B. from Harvard University.
| | |
| --- | --- |
| < | |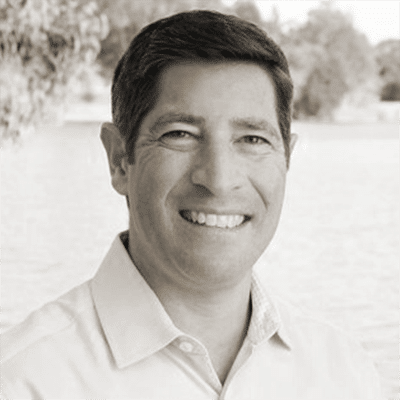 Scott Kupor is an investing partner focused on growth-stage companies building in the bio and healthcare industries, manages the firm's investor relations team, and is responsible for the firm's growth initiatives.
Scott was the first employee at Andreessen Horowitz and managed the firm's growth from $300 million in AUM to more than $30 billion. Prior to joining the firm, Scott worked as vice president and general manager of software-as-a-service at Hewlett Packard. Before that, he held numerous executive management positions at Opsware, including senior vice president of global field operations, vice president of financial planning and vice president of corporate development. Prior to Opsware, Scott represented software companies in both financing and mergers and acquisitions transactions at Credit Suisse First Boston and Lehman Brothers.
Scott is the author of the Wall Street Journal bestselling book, Secrets of Sand Hill Road: Venture Capital and How to Get It, and serves on the boards of Cedar, Headway, Foursquare, Labster, Ultima, and SnapLogic. He also served as chairman of the board for the National Venture Capital Association.
Scott graduated Phi Beta Kappa from Stanford University with a bachelor's degree in public policy with honors and distinction. He also holds a law degree with distinction from Stanford University and is a member of the State Bar of California.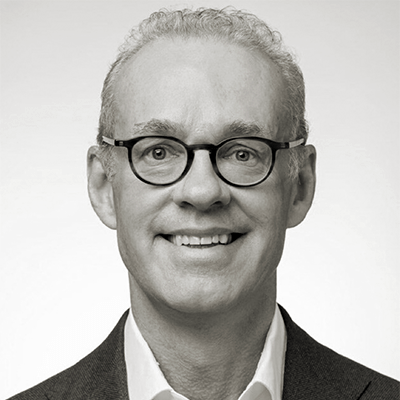 Kevin Ryan is one of the leading internet entrepreneurs and investors in New York. Alongside AlleyCorp, he co-founded MongoDB, Business Insider, Gilt Groupe, Zola, and Nomad Health, and continues to found new companies with AlleyCorp every year. Collectively, AlleyCorp companies have raised more than $2B in venture capital and employ thousands of people in New York City and beyond. On the investment side, AlleyCorp is one of the most active early stage funds in New York. Earlier in his career, Kevin helped to grow DoubleClick, first as President and then as CEO, leading their growth from a 20-person startup to a publicly traded global leader with over 1,500 employees, through IPO in 1998 and acquisition by Google in 2007. Kevin serves on the board of Mercy Corps, is Vice Chairman of The Partnership for New York City, is a member of the CFR Committee on Foreign Affairs, is on the Board of TECH:NYC and is Director Emeritus for Human Right Watch. He previously served on the boards of the Yale Corporation, INSEAD, the Direct Marketing Association, The Ad Council, HotJobs and the advisory board of Doctors Without Borders. He holds a B.A. from Yale University and an M.B.A. from INSEAD.
| | |
| --- | --- |
| | |
Gabriel Drapos
Chief Operating Officer​
Gabriel is Chief Operating Officer at Pearl Health. He was previously a leader on the Product team at Centivo. While there, he led market launches in New York, New Jersey, Connecticut, Florida and Michigan, in partnership with 14 regional health systems.
Prior to Centivo, Gabriel was an early employee at Oscar Health Insurance, where he served in a number of roles including Director of Product Operations, Chief of Staff, Interim Head of Marketing and in a Special Projects role on the Data Analytics team.
Gabriel received his A.B. in Philosophy from Harvard University. He wrote his honors thesis under the advisement of T.M. Scanlon, in which he argued for an alternative moral framework for justifying informed consent in clinical medicine.
Jennifer Rabiner
Chief Product Officer
Jennifer Rabiner is Chief Product Officer at Pearl Health.
Prior to joining Pearl Health, Jennifer served as a product leader at Hint Health and athenahealth. Her product experience spans value-based care in both the health system and independent provider segments, as well as direct primary care. Jennifer's experience also includes healthcare revenue cycle process optimization and system implementation at Deloitte Consulting and Triage Consulting Group, as well as pharmaceutical reimbursement strategy and operations at Millennium Pharmaceuticals.
She holds a Master of Healthcare Administration from the University of North Carolina at Chapel Hill, and a B.A. in Social Welfare from the University of California at Berkeley.
Hint Health | Athenahealth
Matt Solnit
Chief Technology Officer
Matt is the Chief Technology Officer of Pearl Health. He is a technology industry veteran, with 16 years of startup experience and 7 years at Fortune 1000 public companies. Before joining Pearl, Matt was a Senior Director at Akamai Technologies, where he led global engineering teams for multiple solutions and product lines.
Prior to Akamai, Matt was a founder at SOASTA, which was acquired by Akamai in 2017.
Matt received his Bachelor's Degree in Computer Science from the University of California, San Diego.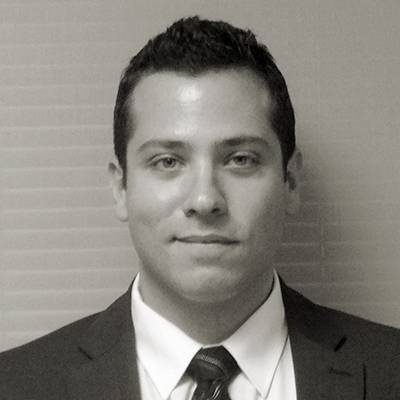 Joseph Cianflone
Executive Vice President, Finance and Strategy
Joe is the Executive Vice President, Finance and Strategy at Pearl Health. Prior to joining Pearl, Joe had been a portfolio manager for the Public Sector Pension Investment Board of Canada, before co-founding Black Diamond Asset Management, a mutual and hedge fund manager. Joe continues to serve as an advisor of Black Diamond and as a director of Metafix Inc., an engineering firm in the industrial wastewater sector, where he had previously been Chief Financial Officer. Joe serves on the board of Tomorrow's Voices, an autism early intervention center located in Bermuda, as well as on committees and boards of various alumni and public-benefits oriented organizations. Joe has an A.B. in Economics & Mathematics, cum laude, with Joint-High Honors, from Harvard College, as well as an MSc in Financial Economics with Distinction from the Saïd Business School, University of Oxford, where he was elected president of his class.
Executive Vice President, Finance and Strategy
PSP Investments | Black Diamond Asset Management
Steven Duque
Chief Growth Officer
Steven Duque is Chief Growth Officer at Pearl Health. He was previously Vice President of Marketing at Catalant Technologies, where he partnered with cross-functional company leaders to design and execute Catalant's go-to-market strategy and messaging, build brand awareness through thought leadership and category creation, and enable sales teams and product-led growth to efficiently generate more than 40% year-over-year revenue growth during his tenure. Prior to Catalant, Steven served as Vice President of Product and Marketing at Happie, in addition to serving in various marketing, sales, and evangelism leadership roles at Intuit and Bullhorn, among others.
Steven received his A.B. in Philosophy (primary concentration) and Sociology (secondary field) from Harvard University.
Jon Goldin
Chief Legal Officer
Jonathan E. Goldin serves as Pearl's General Counsel. He came to Pearl from a global consulting firm, where he was the Chief Operating Officer and General Counsel of its financial advisory business. Before working in-house, Jonathan practiced law at Wachtell, Lipton, Rosen & Katz. He focused on representing corporations, directors and officers in litigation relating to mergers and acquisitions, corporate governance, securities law issues, regulatory inquiries and other complex civil matters. Jonathan began his legal career as a law clerk, first in the U.S. District Court for the Southern District of New York and then in the U.S. Court of Appeals for the Second Circuit.
Jonathan is active in professional organizations, such as the New York City Bar Association and the Association of Corporate Counsel. His public service has included membership on the New York City Water Board (and its Joint Audit Committee with the New York City Water Finance Authority), the Commercial Division Advisory Council of the New York Court System, the New York Chief Judge's Committee on Non-Lawyers and the Justice Gap and the Pro Bono Advisory Committee of the New York Lawyers for the Public Interest.
Jonathan holds an A.B. from Harvard College, where he was elected to Phi Beta Kappa, and a J.D., magna cum laude, from Harvard Law School.
Our team of provider-enablement, risk-bearing, and technology experts are thoughtfully building a values-based team to democratize access to healthcare risk, align incentives with patient outcomes to deliver higher-quality care at a lower cost, and to make our healthcare system more sustainable.
Interested in learning more? We are hiring across functions, including engineering, product, sales, marketing, customer success, and finance. Check out opportunities on our Careers Page.
Peter G. Peterson Foundation, "Budget Basics: Medicare. Medicare Hospital Insurance Fund Surpluses / Deficits (% of GDP, 1970-2100)."
U.S. Census Bureau, Population Estimates and Projections. Cited in U.S. Department of Health and Human Services, Administration of Community Living, "2020 Profile of Older Americans," May 2021.
University of Chicago, "Primary care doctors would need more than 24 hours in a day to provide recommended care," August 2022.
PCPs are under-compensated, compared both to other verticals of the healthcare system (among the lowest ranked specialties by annual compensation) and to the value they bring to that system (the average PCP generally earns $266k, but influences ~$10M in downstream healthcare costs). Sources: Farzad Mostashari, Darshak Sanghavi, Mark McClellan, "Health Reform and Physician-Led Accountable Care: The Paradox of Primary Care Physician Leadership," JAMA, May 2014. Medical Group Management Association (MGMA), "New MGMA research finds physician compensation on the rise," Cision PR Newswire, May 2019.
Healthcare spending per capita in the US is about twice that of comparable countries; yet, US healthcare consumers engage in routine care less often. Higher (and more efficient) utilization of primary care services can decrease systemic costs overall by mitigating risks before chronic conditions develop or acute events occur. Sources: Peterson-KFF Health System Tracker, "Health consumption expenditures per capita, U.S. dollars, PPP adjusted, 2020 or nearest year." OECD Health Statistics, "Number of doctor consultations per person (2017 or most recent available)," 2019.
Wullianallur Raghupathi and Viju Raghupathi, "An Empirical Study of Chronic Diseases in the United States: A Visual Analytics Approach to Public Health," 2018.